Tumble
From Unmariowiki
This Article is Nominated as an Featured Injured Article!
To support or oppose this article, go here.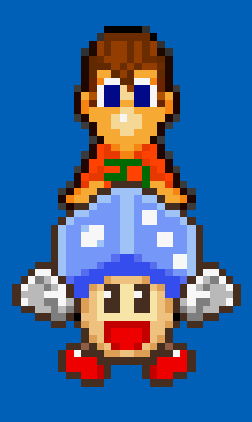 "3D! let me drive! Come on!"
—Tumble
Tumble
Tumble is an actually living person, who looks a lot like a Toad...just with a dice instead of Mushroom Cap, no visible arms and legs and is tiny, at 3'2" He was mentioned in Mario's Party of Parties 3 (6) and was also seen many times in the background of boards. Tumble lives in Toad Town. He occasionally works at his part-time job at E. Gadd's Lab to save up for a Pii. He loves seeing Glitz Pit fights, and he loves eating 'Shroom Cakes while watching SMK. He hosts parties for $30 a board.
His favorite racer (besides himself) is Para-Hoopa.
Bio
Tumble was born way back at the end of the Videogame War in Star Haven, when peace returned to the Mushroom Kingdom... and, let's get on with this already!
Tumble is your average Dice Kid. He loves racing, TV, videogames, Cheese,and basketball, baseball, etc.; he frequently visits his friend 3D in Glitzville so they can watch the Great Gonzales Jr. fight. He works for E.Gadd, and helped fix up the Time Machine in Mario & Luigi: Partners in Time 2, Cackletta's Revenge. His hobbies include hanging out with his friend, 3D, and trying to dodge stupid reporters who pry into his life.
In a recent interview, he revealed a secret fact about his life: He likes Vanilla ice cream better than Strawberry Fudge! So far, this has become breaking clebrity news around the globe
Game Roles
In Mario & Luigi: Partners in Time 2, he and his friend 3D were hanging out at E.Gadd's lab. Suddenly, E. Gadd himself rushed in with the news that his Time Machine was broken... and he had promised to lend it to the Mario Bros.! Tumble and 3D were happy to help.. but got zapped back in time to the events of Mario & Luigi: Superstar Slammers while working on it! Worse, the machine was damaged in landing, and three essential parts were scattered through the BeanBean Kingdom. Somehow, the duo got mixed up with the Mario Bros.'s adventure, and ended up finding the parts, blasting Cackletta to the moon after her defeat at the hands of Mario and Luigi, and getting zapped home in time for the Minty Vinilla Fudge ice cream eating contest at Glitzville.
His Kart Stats:
Kart=Dicehead Destroyer
Top Speed= 40mph
Items= 99%
Acceleration= great
Baller Name:The Tumbler
Type: Tricky
Spechal Shot: Dice Shot
Letter to tap: D (of Dice)
Trivia