Pokemon DP
From Mwuserpedia
Appearances
If you have an appearance for Pokemon DP you have been given permission to add it by Pokemon DP.

Pokemon DP, sometimes called DP by his friends, is a young Pokemon from the Pokemon World. However, he was shunned because of his ability to transform between Pikachu, Pichu, Mewtwo, and Jigglypuff. Eventually, he found the MarioWiki, and many started treating him fairly. He founded the Smash Bros. Kingdom, a town dedicated to friendly Fighting games. He quickly made many friends, and he was also seen as really good at editing. But, he fails to see his talent, and constantly puts himself down. Regardless, he is still a kind-hearted kid. He also has a brother who never shows his face to the outside world. His best friend on the Wiki is Xzelion.
The Lost Adventures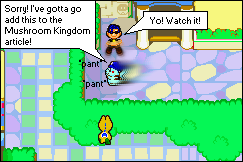 Pokemon DP made a very small cameo in The Lost Adventures. He had to quickly add something to the Mushroom Kingdom Article, but as to what it was, or if he will have a larger role, is currently unknown.
Pokemon DP will appear in Series 2! His role, however, is unknown. What is known is that he is seen with a Mini Dry Bones in Comic 2.
---
This article is a stub. If you can, please edit this.
---