Triple Green Machine
From Stripespedia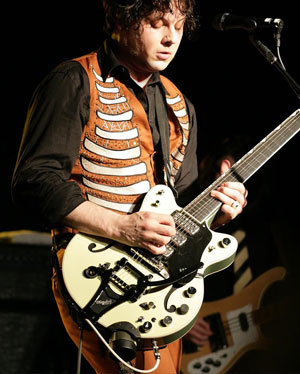 The Triple Green Machine is one of Jack's guitars with The Raconteurs. It was entirely hand-built by famed Seattle luthier Randy Parsons. Parsons also built Jack's Triple Jet, and appeared in the film It Might Get Loud. He has made five different guitars for Jack, and also built the "Peach Thief" guitar for Karen Elson.
The Triple Green Machine is modeled after the Gretsch Anniversary Jr. (albeit with two cutaways). It is visibly a bizarre mammoth of an instrument, and even the luthier had no idea what weird shit Jack was throwing at him. A retractable microphone? What?
The guitar features a retractable Green Bullet microphone in the bottom of the guitar, a built-in theremin, a Bigsby vibrato tailpiece, Grover Imperial tuners, and ton of "secret" onboard electronics. The guitar is equipped with TV Jones pickups (Classics, I believe); the middle pickup covers a built-in MXR Micro Amp, and selecting it produces an instant overdriven sound.
Typically used for "Level".
External Links