We've moved!

Please visit
the
WhatLinksHere
page
here!
Assault Rifle
From The TimeSplitters Wiki
Assault Rifle
Ammo
30/170
Fire Rate
bullets per sec/cartridge time
6.75bps, 4.5s
Reload Time
1.7s
Damage (per Single Shot)
Head/Body/Leg
100%/20%/8%
Type
High Fire-Rate
Zoom
Yes, Far
Primary Fire
Fires Continuous Bullets
Secondary Fire
Same
Games
TS1
The Assault Rifle is a standard machine gun first used in Docks in story mode. It has a fast fire rate, emptying one cartidge in four & a half seconds, and if pretty accurate. In apparence, it is a gray gun with a hand with a aiming view (not a scope) at the top. The Assualt Rifle has a zoom feature which brings up the crosshair and has a scope that goes far.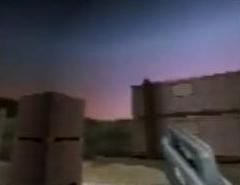 This is an all-round weapon which suits any situation, even close-combat games since it's high-fire rate can kill enemies- especially bots very quickly.
There is no difference between primary and secondary fire. Like most High Fire-Rate weapons, bots in TS1 either fire groups of bullets with a very short pause in-between or some tougher bots fire constantly untill your health is critical.