Main Page
From Devonshire
BEST VIEWED WITH FIREFOX!!!!
Welcome! I hope you like this Wiki. WE ARE UNDER CONTRUCTION! Please bare with me! Thanks!
"Think of an animal, it most likely it lives in Devonshire." From Me, '07.
All animals and places are copyright to me, Michelle. Except Six-Toed Grey Heron and Great-Billed Pelican, they were made up by my best friend, CJ.
*Slasher - National mammal
War Eagle - National bird
Colours - Gold and green
Motto - "Life is good" and God Bless this Land," used interchangeably, both are official.
Map: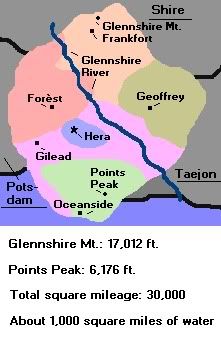 All Pages


















Dinosaurs
60 species -- LIST COMPLETE
Saurischians
Ornithischians
Birds
Prehistoric birds
6 species -- LIST COMPLETE
Archaeopterygiformes
Patagopterygiformes
Enantiornithes
Hesperornithiformes
Confuciusornithiformes
Tinamous/Ratites
10 species -- LIST COMPLETE
Struthionidae (ostriches): 2 species
Casuariidae (emus): 3 species
Apterygidae (kiwis): 1 species
Tinamidae (tinamous): 1 species
Rheidae (rheas): 1 species
Platyrychidae (stubbills): 2 species
Gamebirds
8 species -- LIST COMPLETE
Phasianidae (pheasants, etc.): 6 species
Odontophoridae (New World quail): 1 species
Cracidae (curassows): 1 species
Waterfowl
About 29 species
Penguins
4 species -- LIST COMPLETE
Loons
1 species -- LIST COMPLETE
Tubenoses
10 species -- LIST COMPLETE
Grebes
3 species -- LIST COMPLETE
Flamingos
3 species -- LIST COMPLETE
Storks
2 species -- LIST COMPLETE
Pelecaniforms
54 species
Diurnal raptors
81 species
Gruiforms
20 species
Cariamae
3 species -- LIST COMPLETE
Charadriforms
23 species -- LIST COMPLETE
Sandgrouse
Coming soon
Pigeons and Doves
5 species -- LIST COMPLETE
Highnoses
4 species
Parrots
35 species
Cuckoos
7 species -- LIST COMPLETE
Owls
6 species -- LIST COMPLETE
Nightjars
3 species -- LIST COMPLETE
Swifts and hummingbirds
21 species
Mousebirds
Coming soon
Trogons
About 6 species
Kingfishers
13 species -- LIST COMPLETE
Woodpeckers
12 species -- LIST COMPLETE
Passerines
Fish
Bony Fish
Jawless Fish
4 species -- LIST COMPLETE
Cartilaginous Fish
Mammals
Elephants
Carnivores
Rodents
Marsupials
Cetaceans
Even-toed Hooved mammals
Odd-toed Hooved mammals
Soricomorphs
Reptiles
Crocodylians/Crurotarsans
Squamates
Pterosaurs
Turtles/Anaspids
Dragons
20 species -- LIST COMPLETE
Amphibians
22 species -- LIST COMPLETE
Other life
Plants
Viruses
Inverts
39 species
Invertebrate chordates
1 species -- LIST COMPLETE
Echinoderms
1 species -- LIST COMPLETE
Cnidarians
1 species -- LIST COMPLETE
Arthropods
17 species -- LIST COMPLETE
Mollusks
7 species -- LIST COMPLETE
Flatworms
1 species -- LIST COMPLETE
Rotifers
4 species -- LIST COMPLETE
Peanut worms
1 species -- LIST COMPLETE
Annelids
2 species -- LIST COMPLETE
Ribbon worms
Avimammalids
14 species
B
M