Main Page
From Confederacy

- PanAndromedan Games to start on Frida, August 15 2008.
- First Singasong Contest to take place in Bjork, Shalman Empire.
- New Confederacy Representative Council seating for 2008 approved.
- Passport Standardisation Act to be implemented by all Member-Nations of the COFR.



Our newest member are the Raffore Islands! The Raffore Islands an island country located in the South China Sea east of the Peninsular Malaysia. The country has 7 official languages and gained its independance in 1993. The country is a Parliamentary Republic.

Confederacy Representative Council (CRC) members with more than one seat:

Coulla President, 12
Hiigaran Confederacy Vice President, 10
Diesmaran Empire, 10
Shalman Empire, 7
Hypertrophy, 4
Norvegia, 3
Holidia, 3
Bhumadi, 3


Overall CRC members at the moment: 64




Our nations are what make up practically everything about COFR. They role-play, help each other out, and most important of all: participate. Here is a list of these unique nations: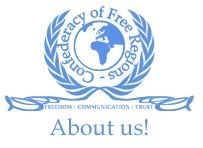 Freedom, Communication, Trust
From the battlefields in Hiigara to the peaceful landscape of Tepua, from the Palaces of the Shalman Empire to the fashion districts of Hypertrophy, the nations of the Confederacy of Free Regions are, to say the least, unique to themselves. But being unique is what brings us together, and with the help from the leaders and the people, we are united under one banner. COFR: A different union, a unique union.
Founded by the representatives of the great nation of Hiigara, COFR is a different union with different options. We unite but respect each other's differences; we understand the individual needs of all our members; we welcome the new; and we keep the old. What sets us apart from other unions you may ask? Well, positively just about everything.
Join us today! Do you have a country-based city journal that you want to get involved with other nations, participate in media such as news and television, and enjoy role-playing with some very welcoming people? Then the Confederacy of Free Regions is for you! To join us, visit our forums here and sign up, then set up an application in our "New Members" section.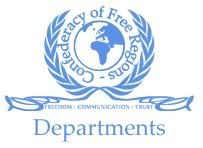 Departments
The Confederacy has several Departments. The infrastracture of the Confederacy is not yet complete and new Departments may emerge in the future. Currently we have 7 departments, all dedicated to running the COFR as smooth as possible!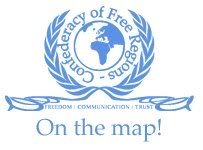 Map
Our map is up-to-date, and includes all of our nations that have submitted their map. Planetary nations are not included. If you are not on the map, please submit it here.