Vladimir, King of White Ruthenia
From Kaiserreich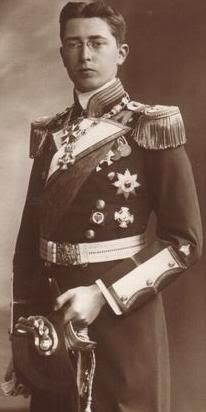 Official portrait of King Vladimir
Vladimir von Hohenzollern (Russian: Владимир, White Ruthenian: Уладзімір, born Waldemar Wilhelm Ludwig Friedrich Viktor Heinrich in Kiel, Germany on March, 20 1889) is the second and current king of White Ruthenia. Eldest son of the first king of White Ruthenia Genrikh, and nephew to the German Kaiser Wilhelm II he succeeded his father on April, 20 1929.
Biography
Early life
The eldest son of then Prince Heinrich of Prussia and Princess Irene von Hessen und bei Rhein, Waldemar was born in Kiel where his father was serving in the Kaiserliche Marine. As his father was quite overshadowed by his Imperial brother, Prince Waldemar grew up in a relative distance from the German court, just as a simple German Prince. What's more was Waldemar's illness. His parents were both grandchildren of Queen Victoria of Great Britain: like his first cousin Tsarevich Alexei of Russia, Waldemar was a haemophiliac. His youngest brother, Heinrich, died of this illness at only 4 in 1904. Due to the subsequent crisis, Waldemar lived in a great reclusiveness, only marrying in 1919. However, everything changed for the unfortunate Prince in 1921: after a vote by the newly elected Parliament of White Ruthenia, his father Heinrich was proclaimed as King Genrikh of White Ruthenia. From one day to the next, the ill prince moved to Minsk, where he was made Crown Prince under pressure of the local prominent citizens, as the Germans were prefering his healthier brother Sigismund. After his father's death on April, 20 1929, Waldemar was crowned as King Vladimir of White Ruthenia in Minsk Cathedral of the Holy Spirit (he had converted to Christian Orthodoxy after his arrival in White Ruthenia).
As king of White Ruthenia
Barely speaking Russian and even less White Ruthenian, King Vladimir, who had not attended many public meetings during his tenure as Crown Prince, proved to be an uneffective and scarcely seen monarch. Even if he had expressed some interest to the White Ruthenian people, he was never educated to rule a country and as such, prefer to stay far from everyday politics. In the end, his regular haemophilia crisis are keeping him in bed. His heir apparent and brother, Prince Sigismund, reinforced by his position as Head of National Security Services and his links with the Orthodox Church and the nationalist groups, is the true ruler of the country, along with Prime Minister Pyotr Krecheuski. However, as King Vladimir is far too weak to effectively control the country, Germany heavily supports him, as his reclusiveness permitted the military control and vassalization of White Ruthenia, which were impossible during his father's reign.
Family
Waldemar married Princess Calixta Agnes zur Lippe-Biesterfeld, daughter of Prince Friedrich Wilhelm zur Lippe-Biesterfeld (born on October, 14 1895), in August, 14 1919 in Hemmelrack. She became Crown Princess of White Ruthenia after her stepfather's coronation in 1921 and later Queen Calista of White Ruthenia. Due to Vladimir's illness, they have no children.