Adalbert, King of Flanders-Wallonia
From Kaiserreich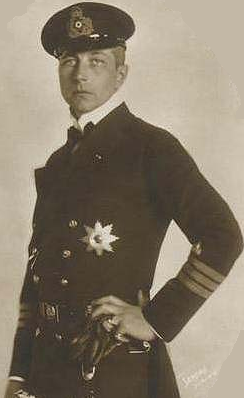 Young King Adalbert in his uniform of Kaiserliche Marine
Adalbert von Hohenzollern (born Adalbert Ferdinand Berengar Viktor in Potsdam, Germany on July, 14 1884) is the first and current king of Flanders-Wallonia. Third son of the German Kaiser Wilhelm II, he was elected by the Parliament of the successor state of Belgium on February, 17 1922.
Biography
Early life
Third son of Kaiser Wilhelm II and Empress August Viktoria, Adalbert was named in honor of one of Wilhelm I's nephews, an Admiral who took a significant part in the constitution of the Prussian Navy. To respect his illustrious namesake, after his military upbringing which he attended with his brothers on Prinzeninsel and Prinzenhaus at Castle Plöner, Adalbert attended the Navy School in Kiel, being trained as a naval officer. Living in Kiel, and often visting royal courts in Beijing and Athens to represent his father, he married Princess Adelheid von Sachsen-Meiningen on August, 3 1914. During the Weltkrieg, he commanded the cruiser SMS Gdansk, then spending the years 1915 to 1918 in command of a torpedo boat, before spending the rest of the war on Belgium, where he participated along with his mother to the building of many convalescent homes for the German sailors.
As king of Flanders-Wallonia
On 1921, German Peace with Honour with Britain left the status of Belgium mostly unsettled; the German occupation authorities had functioned with a federal model, giving to either Dutch-speaking Flemish and French-speaking Walloons a vague autonomy status. With the French Civil War and the syndicalist threat of the Commune of France on its borders, Belgium had to become a buffer state included in the Mitteleuropa system. Unfortunately, seven years of occupation and federal status had left the two Belgian populations ready for separatism and anarchy: with the exile of King Albert of Saxe-Coburg-Gotha, any trace of national union had diseappeared in Belgium. Dr. August Borms proposed instead a single but federal kingdom of Flanders-Wallonia led by a member of the Hohenzollern dynasty. On February, 17 1922, Prince Adalbert, endorsed by his father, was unanimously elected by the Parliament. After Adalbert converted to Catholicism and renounced to his rights on the German throne, he became King Adalbert of Flanders-Wallonia, allowing the fragile kingdom of Flanders-Wallonia to stand through a national and monarchic figure.
Family
Adalbert married on August, 3 1914, at Wilhelmshaven, Princess Adelheid von Sachsen-Meiningen, born on August, 16 1891, second daughter of Friedrich Johann von Sachsen-Meiningen, himself second son of the Theater's Duke, Duke Georg II of Saxe-Meiningen. Now Queen of Flanders-Wallonia as either Adelheid (for the Flemish) or Adelaïde (for the Walloons), she had three children with the King:
A stillborn daughter (September, 4 1915)
Princess Victoria Marina of Flanders-Wallonia (also known as Princess Victoria or Victoire, born on September, 11 1917)
Crown Prince Wilhelm Victor of Flanders-Wallonia (also known as Prince Willem or Guillaume, born on February, 15 1919)