Sysop Tower
From Mwuserpedia
Sysop Tower
is where guests register and where Sysops hang out and work.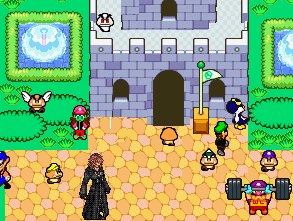 Appearences
This section may contain spoilers for The Lost Adventures. Read at your own risk.
It was the main setting in The Great Freeze Journey.
Sysop Tower appeared as Zyzop Tower in the official Wiki Game
Sysop Tower was a board in MarioWiki Party
In Wiki's End, this is the place where Porplemontage announced that the wiki was coming to an end. However, it only appeared in two parts of the Prologue, and didn't make an apperance again in the series.
In The Lost Adventures by Uniju, an alternate universe, Realm 0.5 Sysop Tower is destroyed by a W.O.S.O. gunship.
Floors
Floor 1: Everybody
This is where the Sysop Room, Crat Room, and reception Area is.
Floor 2: Everybody
contains an Art Gallery, Photo Studio, and Movie Theater
Floor 3: Sysops only
contains a portal to Pwnage Path, Boxes with party supplies, and a Block Room
Floor 4: Crats Only
Floors 5-30: ???